I am not sure I REALLY need new projects, but temptation is so high and I am so weak :-)
In case you have missed these, Nina is hosting a
Tokyo subway map quilt-along
based on
Elizabeth Hartman's pattern
made of 1600 squares of fabric! This one has been on my wish list since we went to Tokyo years ago so I will try to join in.
and Angie is hosting a
quilt-along
based on the New Farmer's Wife book out this year. I must confess I ordered the book to join her :-)
This one will start on 28 September, plenty of time to gather supplies and get the book which is sold out in plenty of places actually. There is also a quilt-along on
Kerry's blog
for the same book too.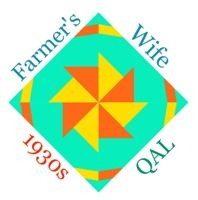 This one will start on 14 September so I supposed it is possible to follow both quilt-alongs to get even more productive!
Go and check out the details on their blog if you want to play.
Celine