I started the quilt-along by being ahead every week but this is now over, and this week I even had to rush to finish the blocks.... I posted my weekly picture about 30 minutes before the deadline... wow!
Time to focus again as this will only heat up! So here are my 9 Jacob's Ladder blocks, all made out of my scrap basket (but the monsters print).
That's 4 more blocks for my 350-blocks challenge this month, taking my total to 8.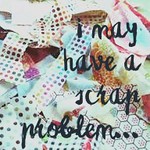 Linking to
Confessions of a Fabric Addict
Celine